It's a new year and you may have set some new years' resolutions. The top new years' resolutions for 2021, depending on which article you read, were to get fit, lose weight, and be more healthy. Did you set any of these or something completely different? What were yours? Can I help you with them?
I caught up with Natalie Jones, Duty Manager and Swim Instructor at community-run swimming pool and leisure centre, Withington Baths in Manchester, to see whether she could help my readers on the fitness side – particularly around swimming and aqua fitness.
For Natalie being a swim instructor is " one of the most rewarding jobs you will ever do…teaching life skills in the water to save lives and to have fun." Personally for her swimming is a bit like her meditation. You might be thinking, swimming will never be like that for me, well, maybe not initially but it may become that. You might not know without giving it a go.
When asked about the health benefits of swimming Natalie said, "Lots of people benefit from beginning their exercise journey with swimming especially those with obesity or overweight because it is a less strenuous activity but it burns a tremendous amount of calories and you are using every muscle in your body to swim. Even for people who use the gym a lot and are quite fit, swimming can help tone areas they haven't been able to in the gym. Swimming is a really good cardio workout".
It's is not just for people with weight they want to lose though, Natalie would recommend swimming to everyone. There is a mental health benefit of swimming too. And, she says, you don't have to swim when you are in the swimming pool. You could try an aqua aerobics class or you can go to an open swim session and do some swimming exercises such as press ups on the walls of the pool, running on the spot in the water, punching the water or squats. You can also use a pool noodle to do exercises.
Intrigued? Did you have 'get fit' as one of your new years' resolutions; one of your goals? What would Natalie's top tips for achieving those goals be?
Don't overthink it
Start with really specific goals – e.g. swim for 15 minutes twice a week
Don't try to be the best of the best right from the start, just make a start
Are you thinking, I would love to but people will look at me and I'm embarrassed to be seen in a swimming costume? Natalie says this is a very common thing people say to her. She has some tips for you too: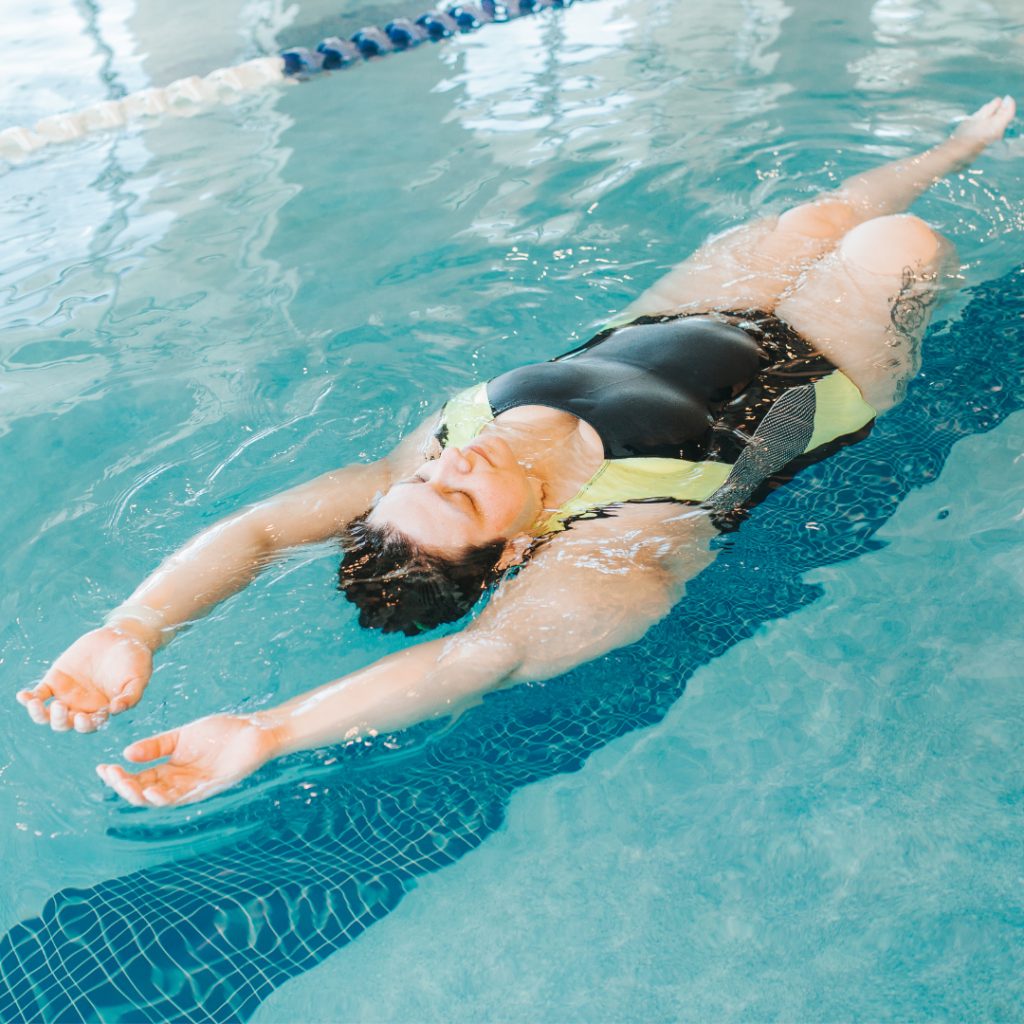 Find a quieter time to go swimming (ask the reception staff for information)
Remind yourself that no one cares. Everyone is in the same boat
Try swimming costumes with arms or legs or those which look like they have a skirt – or wear a long t-shirt over your costume.
Try a ladies' only swim – ladies only though!
Ready to give it a go? Ready to achieve your goals?
And if you are starting out on a new journey to improve your health, why not book a nutrition consultation to have a look at your food intake alongside your physical activity? They go hand in hand. I offer one to ones in person and online. All advice is tailored to your needs, your timetable, your skills, your likes and your dislikes.
I look forward to walking with you on this journey to realising your new years' resolutions.
Disclaimer. This post is not intended to give personalised nutrition or fitness advice. For individual advice seek support from a professional. Porter Nutrition does not endorse the activities of third party organisations – if you want to give services a try, please make your own decisions with professional advice if needed.